"My father said: you must never try to make all the money that's in a deal. Let the other fellow make some money too, because if you have a reputation for always making all the money, you won't have many deals."

J. Paul Getty
Contract Formation Services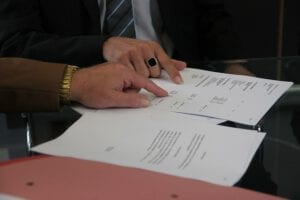 A contract is an essential part of doing business. Whether you are involved in a multi-million dollar transaction or you're hiring someone to perform a service, proper formation of a contract is essential. It creates a tool that describes what is expected of all involved parties. An ideal contract should be written using clear and unambiguous terms to ensure that it is understood and contract lawyer Nick Hansen will be able to help you with this.
Unfortunately, contracts are often filled with non-essential legal jargon, confusing statements, inconsistencies and a host of other problems that make the contract difficult to understand or even enforce. This is one reason that skilled contract formation is essential.
The way that concepts are expressed in a document is often just as important as the concepts themselves. Solid contract drafting skills are essential in ensuring the formation of contracts that are legally binding and easy to understand.
Contract Formation & Contract Preparation
Hansen Law Firm offers a full range of contract formation and contract drafting services. We provide services relating to all types of business contracts, including:
Operating agreements
Business purchase agreements
Sales contracts
Joint venture agreements
Service contracts
Employment contracts and non-compete agreements
Commercial Leases
Shareholder and partner agreements
Vendor agreements
Count on Us For Contract Formation
We believe that we are uniquely qualified to assist in the contract formation and drafting process given Mr. Hansen's experience and knowledge in handling disputes when contracts have been poorly drafted. As a contract lawyer, Mr. Hansen can help spot when a proposed contractual provision is likely to cause problems. Hansen Law Firm will assist you in drafting clear contracts that fit your business needs and that will help to protect you from unnecessary risk or loss.
If you are in need of contract formation services in Colorado, please call 303-785-7777.